Chinese enterprises to mention origin of Vietnamese fruits
Chinese enterprises importing Vietnamese fruits to the country must provide information about the origin and quality of such fruits while following import procedures from April 1, 2018.
This was announced by Việt Nam's Ministry of Industry and Trade.
The ministry's Asia-Africa Market Department said the ministry had recently received requests from the provincial authorities to trace the origin of Vietnamese fruits imported by China via border gates in Guangxi Province.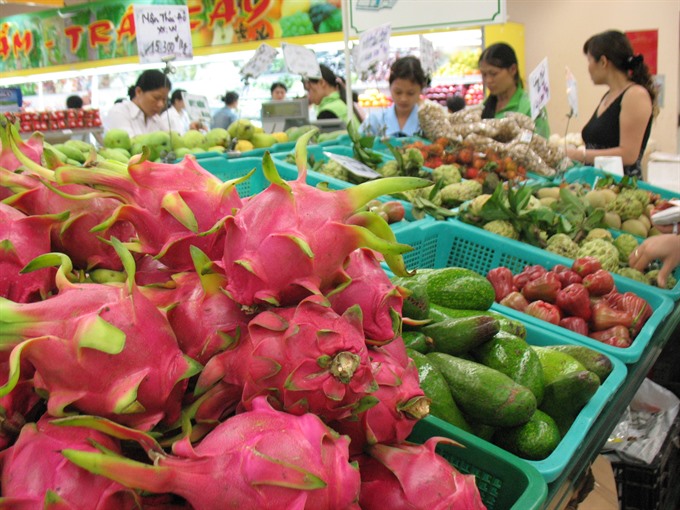 Thus, from April 1, Chinese enterprises importing fruits from Việt Nam must provide packaging images containing traceability and quality information of product when they follow the procedures for getting imported animal and plant quarantine permits at Guangxi's import quarantine management agency.
The department said the enterprises must list the name of the fruits and their origin as well as the name and code of the packaging facilities either in Chinese or English.
In addition to this, businesses can add labels with the above-mentioned information, bar code, quick response code or anti-counterfeiting stamp to be able to be checked any time.
According to the department, in 2017, the General Administration of Quality Supervision, Inspection and Quarantine of China gave permission to four border gates in Guangxi Province to import fruits. Currently, the province has seven border gates allowing the import of fruits.
Meanwhile, Guangxi Province also imports fruits from Việt Nam that have preferential loans for businesses importing them, including dragon fruit, longan and mango.
The Pingxiang China-ASEAN Fruit Import and Export Chamber said the demand for imported fruits in China was huge. Fruit imports in Pingxiang City alone accounts for nearly 50 per cent of China's total fruit imports. — VNS